Hey homeopatix,
amazing how quickly you turned out another plugin! :-D I actually like how clean the interface looks.
I can see that Voyage has some issues in this early version:
- the Milestone skill 12 is actually not available for purchase even though it exists in the gamefiles (same as 13-15 actually)
- Travel to kinship members house is not supported
- on Warden, not all available skills are shown since Wardens can learn the regular reputation skills that lead to places they have no Muster, like Thorin's Hall
- on Warden, skills from shop are not showing up and there are some store-exclusive skills with no alternative for Wardens like Shire
- on Warden it shows the Hunter skills for Beorninghus and Hultvis rather than Warden skills
- on Hunter Annak-khurfu is missing
- I am missing a lot of learned skills on my Champion: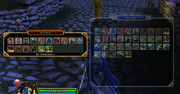 Happy to help with all the edge cases I have learned over the years with Travel Skills.
You can also give Travel Window II another try, I fixed all French skills in the plugin, 74 were broken because of abandonment be previous maintainers, but they all work now.