Version 34 is released - MAJOR UPDATE
General changes :
- This release introduces a new naming applied on ingame themes and in the hard drive sub-themes folders. Its goal is to offer a better overview.
You must delete previous JRR skins collection installation folder before installing this update. (= do not overwrite)
This also means your characters will loose their current theme association, you will have to rebind each of them after the update.
Don't forget the panel customizations (including custom toolbar) will be applied only after the next log in of your character.
- Any theme including the word "Custom" in his name is designed for advanced users. Any other theme use an universal toolbar.
Custom toolbar themes require to manually edit their skindefinition.xml file to fit user's game screen resolution in order to locate the toolbar at the right place on your screen.
- I enlarged the target of target vital frame, targeted objects frame is almost unchanged.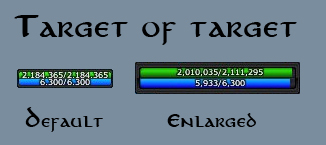 - I suppressed some deprecated panel customization codes:
* "panel displayed when applying an item on a legendary Item"
* "Taller legendary item dismantling result window"
* "Taller Legacy Extraction panel"
* "Store button removal in relic master panel"
* "Expanded master loot window"
* "Store button removal in wallet panel"
- I Fixed many missing or uncorrect anniversary portraits.
- I reworked the frame of monter play anniversary portraits plus many old portraits like good and evil NPCs.
- I Fixed and customized as much as possible the brawler's mettle meter on most skins. The 9th pip remains unsupported by skins at the present day.
Theme changes :
- "Fifty Shades of Grey wizard" had his name shortened in "Grey Wizard".
- "JRR *A*" "JRR *B*" and "JRR *C*" have been renamed "JRR Bree" as they are a Bree themed edition of the former JRR main theme.
- "JRR *D*" has been renamed "JRR Main theme" and has been reworked in 2 versions : Translucent and opaque panels.
- I fixed the issue with the toolbar from Monster's Lair Custom short toolbar theme.
- I turned invisible the XP bar from "the white hand" light toolbar edition.
- I suppressed the slight transparency in "Grey wizard" themes except for "Wide WoW" edition.