@salvo
Quote:
If I wanted to change the background color of the deedlog, would this plugin be able to help as well?
YES
Hi, the goal of skins (plugins are a different thing) is precisely and exclusively to change the appearance of the user interface elements : width, height, location and their coating which is composed of picture files that you can recolor / redesign / replace.
This skin (E&E panels) is only focused on resizing UI elements, however, as it is composed exactly than all the other skins, you can choose to use it as a clean fresh starting base to introduce your own picture files customizations.
All you have to do is to log the changes you wish to apply in its
skindefinition.xml
file, which is located in its skin folder, on your hard drive. (Do it with a text editor as Window's Notepad)
The deed log background corresponding picture file is
accomplishment_book_background.tga
The source of all graphic files and corresponding text (reference identifier of the picture, its relative path location in the folder tree including its filename) to add in the skindefinition.xml file are currently provided in this skinning pack :
https://www.lotrointerface.com/downloads/info1008
Handling TGA files with common picture editing software can be... complicated
In your example, the line of text to insert in the skindefinition.xml file to indicate the Lotro client that you have introduced a picture replacement for the deed log background could look like this :
Code:
<Mapping ArtAssetID="accomplishment_book_background" FileName="my_skin_picture_files_folder\my_customized_version_of_accomplishment_book_background.tga"></Mapping>
You can also choose to install (for free) fully customized graphic themes, as a starting base for your own customization or as a turnkey alternative to the blue default user interface skinning theme :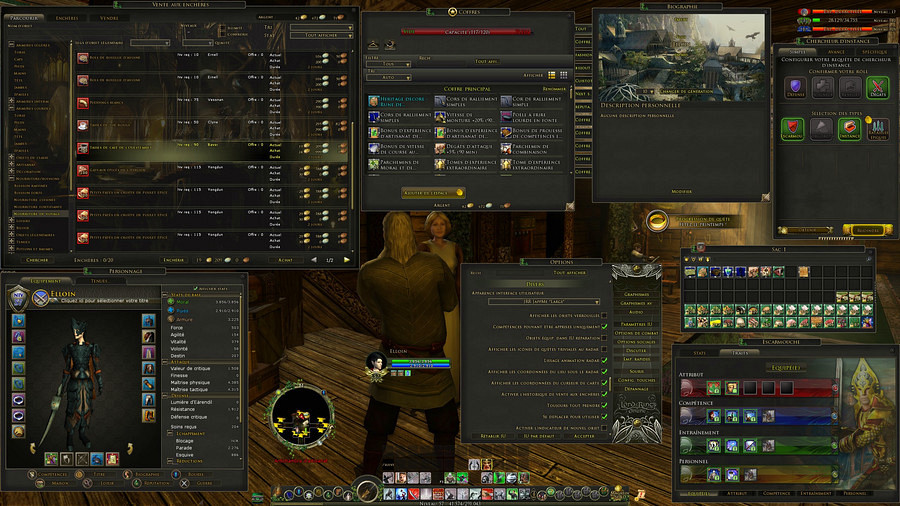 For example, the pack of UI themes
JRR skins collection
apply the same panel enhancements which are provided in E&E panels, combined with custom full sets of picture files in order to deliver many new user interface experiences.
Slide down its homepage to see many screenshots of what it proposes you.
Other full theming skins :
Black Glass Remix
or
Azure Glass